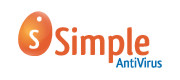 Simple Antivirus is a step forward in the world of Information security. Among many well-known antivirus products Simple Antivirus excels in great simplicity, high-quality scanning and monitoring mechanism and comfortable user interface.

Simple Antivirus provides optimal defense for computers from all known viruses, internet worms, malware, adware and spyware programs. Simple Antivirus allows to use itself for defense of workstations under Windows XP™, Windows Vista™ operation systems and to be a part of antivirus defense in corporate networks.

Simple Antivirus realizes monitoring of viruses' activity by checking file system and RAM. It allows to provide maximum productivity with minimum system requirements. Simple Antivirus includes scanner, resident monitor and comfortable update and settings modules.
Updating of virus definition database are realized by different ways (both the direct connection and through proxy-server).
More detail about antivirus, prices and conditions of partnership you can find at www.simple-avr.com.ua.